Tétange
Group Activity: Guided Mountainbike Tour - "Haard-black"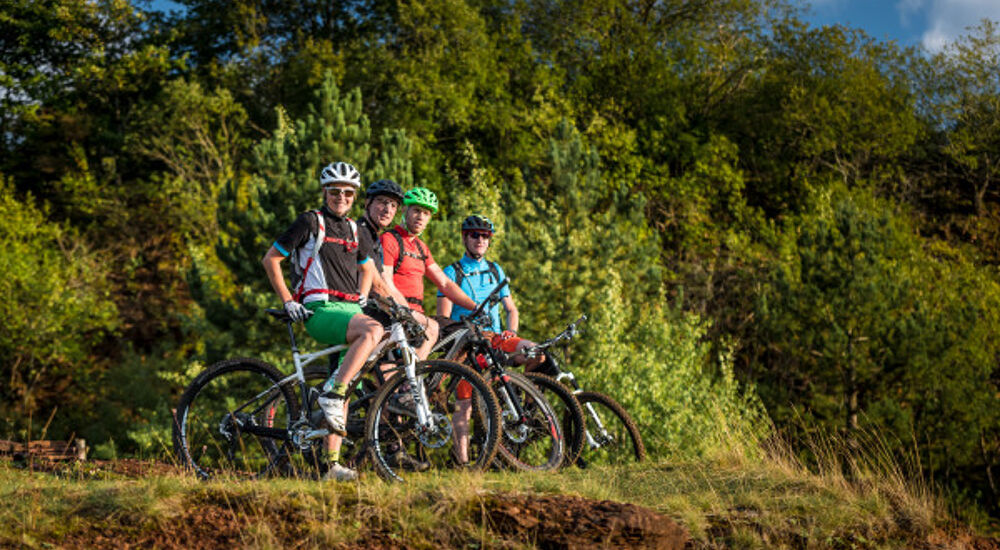 Description
The southern region of the country is home to a fascinating mining heritage. Nowadays, the former open-pit mines have partially returned to the wild, offering a landscape of rare beauty. It is here where you'll find routes specially designed for mountain bikers and nature lovers. Attention: The ticket price applies per group and not per person. All group tickets can also be booked for individuals. If you always wanted a personal coach, then this is the one for you
Are you up for the challenge of a lifetime? The "Haard Black" MTB Trail is not for the faind of heart
The Haard Black route is challenging. It offers more frequent obstacles, rocky terrain, and steep descents. An excellent trail for anyone looking to test and improve their skills.
Our trained guide can accompany you and help you discover the trail in a completely new way; work on your technique and learn how to engage difficult terrain at speeds hitherto thought impossible. Find out how these guided tours have something in store even for bikers who know the trails by heart.
Difficulty Level S2+, 120 to 150 minutes, 27.6 km, 687 HM
Starting points:
Dudelange: Parking Boulodrome - rue Reiteschkopp, L-3476 Dudelange
Tétange: Parking Schungfabrik - 14, rue Pierre Schiltz, L-3786 Tétange
Rumelange: Parking Terrain de football - rue du parc, L-3741 Rumelange
Guide speaks German, French, English and Luxembourgish; additional languages available upon request
For additional time options, please contact the ORT Sud (+352 27545991)
Downloads
Timetable
opening hours not communicated