Leisure activities
Parc Le'h Adventures Dudelange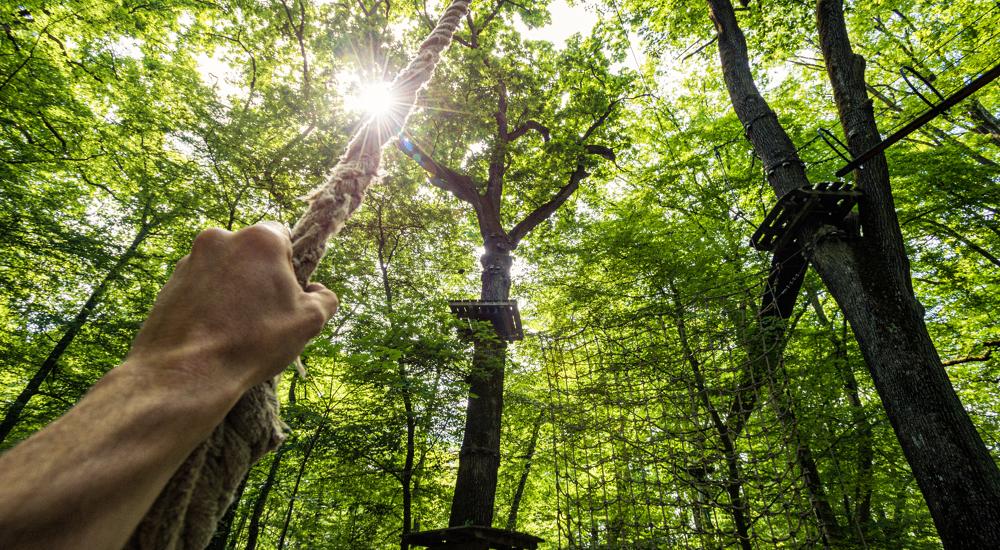 Description
Climbing among the treetops at the Parc Le'h
You need a good sense of balance and a bit of strength and courage in the climbing park. Part of the beautiful Parc Le'h in Dudelange, it offers over 100 different challenges on seven routes, including nets, rope bridges, surfing, zip lines, Tarzan and "monkey trees", plus circuits for young children and for team-building events. The maximum height is a dizzying 17m - not for the fainthearted! There's something for everyone – for toddlers (from +/- age 2), adults and grandparents – whether they come as a group, for a stag party, a birthday celebration or a family or corporate event. Afterwards, you can eat at the Parc Le'h restaurant.
Le'h Adventures Park is for thrill-seekers and anyone who loves challenge and adventure. But don't panic!
All the routes are completely secured with a patented system, the only one of its kind in Luxembourg and the Greater Region. The park is divided into about one hundred different challenges, divided into seven routes with various levels of difficulty. Younger children can try out the 5m-high green course, while beginners can start a little higher on the 8m-high blue course. And for the most adventurous, there is the extreme course, which reaches a height of 17m and includes a 6m free fall! It is one of the most difficult courses in Europe, but it's the perfect challenge for adrenaline seekers. Perfect for a fun outing with family and friends or a corporate teambuilding event, Parc Le'h Adventures offers guaranteed euphoria with its countless monkey bridges, nets, logs, and jumps in the void...
Are you ready to take the plunge?
Opening hours
opening hours not communicated