Leisure Activities
Guided tour of the Minett Trail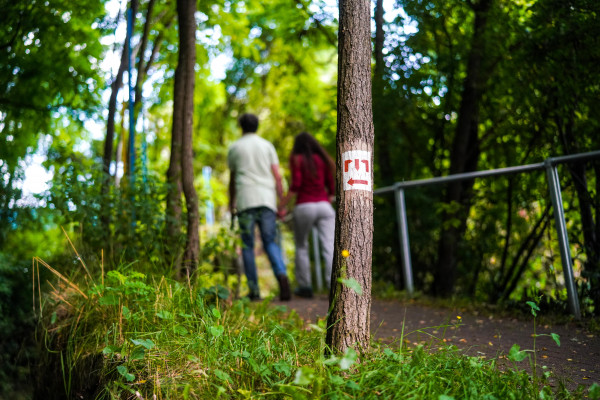 Hike along any one of the 11 different stages of the sensational "Minett Trail", the regional hiking trail that traverses the entire Minett region. You'll be accompanied by a guide and will be able to learn more about the fascinating region.
The region in the south of Luxembourg bears more than just its name because of its industrial past. For decades the new wealth of the country was brought to light here: the "Minette" iron ore and the steel industry have shaped the country and the landscape to this day, and both nature and society have been changed in equal measure. Anyone wandering through the region today will discover its own peculiarities and characteristics and enjoy its rich diversity. It can be beneficial to be aware of the rich history, but do not despair: if you want to find out more details, you will find what you are looking for in several museum stations along the hiking trail.
The "Minett Trail" over 90 kilometers leads through several former open-cast mining areas that have been gradually renatured again over the past 40 years after the mining operation stopped; Whether on one of the ten official sections of the route, which are between 7 and 15 kilometers long, or on a segment that you have made out for yourself - the "Minett Trail" will reward its hikers with wonderful views and great experiences.
For additional, personalized time slots, feel free to contact us via mail or telephone: / +352 27545991
Informations
Organizer
Office Régional du Tourisme du Sud asbl
Please bring the following
Remember to bring sturdy shoes and weatherproof clothing. Sufficient food for the hiking route and sufficient drinking water are also advisable.
Location information
Depending on the Guided Tour selected, the starting point is at one of 12 train stations. Visit Minett will contact you in advance with the exact starting point.
Included in the offer
A trained, knowledgeable guide will accompany you and answer your questions about the region.
Public transport
All the start and end points of the Minett Trail are at train stations and are therefore connected to the free public transport network in Luxembourg
Location
---
Highlights
Hike through a unique landscape
Accompanied by a knowledgeable guide
11 different stages
---
From 2022-04-01 to 2024-04-30
10:00 - 16:00

Price
115.00€
Number of participants
Up to 25 people per group and guide. Bring your friends!
Languages offered
English, French, German, Luxembourgish